Description
Simply put, the 3DPrintMill(Creality CR-30) is a cross between a traditional 3D printer and a conveyer belt. This means two things:
Continuous, unattended part printing. Parts are 3D printed, the heated belt advances, and the parts detach themselves and fall into a bin. No more constantly prying pieces off a heated bed and starting the print process again. The 3DPrintMill can turn an entire 1, 5, or 10-kilogram roll of plastic filament into dimensionally accurate plastic parts with no human supervision.
Extremely long (theoretically "infinite" along the Z-axis) 3D prints. By tilting the bed 45 degrees, the back of the printed object advances out of the 3D printer- while the front is still being printed inside the printer. The longest print out of the 3DPrintMill to date is a 20 foot/6 meter long bar- all one piece, produced by a machine only 66cm long.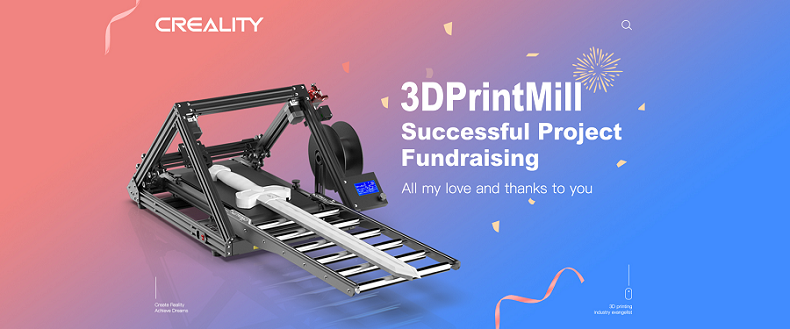 ---
Features:
* Infinite-Z build volume
* Stable Core-XY structure
* Broadband power supply
* Exclusive slice software
* 45° angled hot-end
* Nylon conveyor belt
* Filament breakage detector
* Ultra-silent motherboard
Stable CoreXY Structure
The stable and sturdy CoreXY precision structure with isosceles right triangle support gives you an extraordinary printing experience
Nylon Conveyor Belt
Made of wear-resistant Nylon, the conveyor belt features excellent adhesion to the model. The printed model can fall off automatically as the belt rolls to the end, thus free your hand
Strong adhesion| Hassle-free removal | Wear-resistant| Well-balanced conveyance
*Easy to replace the conveyor-belt
Unique 45° Printing Angle
The unique 45 ° angle design offsets the limitations of the vertical nozzle structure. Equipped with a high-performance nozzle kit, it achieves continuous printing along the horizontal Z-axis
Infinite-Z-axis for Endless Printing
Equipped with the rolling conveyor-belt, it realizes continuous printing. No worries to print the infinite length model. High productivity, time-saving, and cost-efficient
(Print dimension: 200*170*∞mm)
*A removable extension bracket is available for installing to prevent the model from falling during printing
Anyone who enjoys 3D printing but does not enjoy the process of leveling beds and detaching prints. The 3DPrintMill usually prints out of the box and has excellent bed adhesion with PLA, TPU, and PETG. Any adjustments, if needed, are simple, and once done, it stays level almost indefinitely.
Etsy and eBay store owners who already sell original 3D printed designs. Wall hooks, face shields, and other functional prints by the dozen, hundreds- or even thousands. We're working on software solutions that will allow you to not only print the same object continuously but also add a variety of different models to a print queue and print them all without interruption.
People who need plastic parts below the minimum for cost-effective injection molding, or anyone who has sensitive IP and don't want to risk having their molds used without their permission.
Anyone who would use a traditional 3D printer farm- but doesn't want the associated labor costs of constantly changing trays of parts, detaching those parts, and starting the print process again.
Cosplayers with very long prints- swords and spears, that usually require a dozen or more parts and significant post-production can generally be printed on the 3DPrintMill in just two parts, often with no support to remove.
Restorers, propmakers, and set designers. The 3DPrintMill (Creality CR-30) can print strong, durable crown molding and other architectural features of any profile up to 200×170 and of nearly any length, without the need for custom tooling. Depending on your selected print resolution and application, these 3D prints can often be immediately primed and painted- with no need for time-consuming post-processing.
Schools that want to provide access to a 3D printer and want to avoid the risk of students handling it directly and cutting themselves on a broken glass bed, or the sharp tools often used to remove prints or burned on the heated nozzle. The 3DPrintMill (Creality CR-30) is the safest option available since once loaded with a week's worth of filament by a teacher, it can then be used without any human contact so can be encased in a plastic box or put behind a window with a 3D printed chute to dispense finished parts to the students.
Anyone with compromised dexterity, or limited movements in their hands and arms. Because the prints do not have to be physically removed from the bed, they can be advanced via a digital control, the 3DPrintMill is far more accessible than more traditional designs- and we plan to build on that. If you or someone you know have special needs, please contact us- we're doing everything we can to include features that will allow everyone to 3D print- for business or fun.
---
Product Parameters
Molding technology: FDM
Print dimension: 200 * 170 * ∞ mm
Machine dimension: 535 * 656 * 410mm
Package dimension: 685 * 565 * 302mm
N.W.: 16.5kg
G.W.: 20.5kg
Slice software: Crealitybelt
Print accuracy: ± 0.1mm
Nozzle diameter: 0.4mm
Number of nozzles: 1
Hotbed temperature: ≤ 100 ℃
Nozzle temperature: ≤ 240 ℃
Layer thickness: 0.1mm-0.4mm
Rated Power: 350W
Power supply: AC 100-120v / 200-240v, DC 24V
Supported filaments: PLA / TPU / PETG
The diameter of filament: 1.75mm
Supported language: English
File transfer: USB/SD card
---
Package List:
3DPrintMill 3D Printer